Rossland Youth Week 2018 planned for..

April 27 – May 3rd!!
To see what we did last year.. keep reading!!

Rossland Youth Week is a week of events to celebrate the diverse, talented and overall fantastic youth of Rossland.  This is a brief synopsis of what will be happening April 28-May 4th, 2017.   Youth Week Events are community events open to all!
-Red Talks – Ideas Worth Shredding – April 28thth at the Firehall 7-9pm
An evening of guest speakers, spreading and shredding their ideas, research, life experiences and insights, focusing on the theme Perseverance.  Doors open at 6:30pm, talks begin at 7pm.  Presented by the Seven Summits Centre for Learning.  Tickets $10 at the door
-Teen Open Mic Night! Saturday April 29th, 7-9pm
This month, instead of the last Friday of the Month Open Mic Night will be Saturday April 29th at the YAN Space. Open to all teens of all levels. Singing, slam poetry, play an instrument, dance, tell jokes, or just come and cheer on your friends.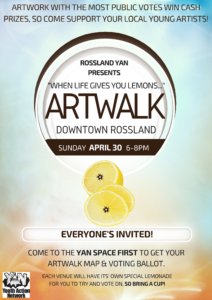 -"When Life Gives You Lemons…" Rossland Art Walk! –  Sunday, April 30th, 6-8pm
The Rossland youth art walk will begin at the YAN Space, 2076 Columbia Avenue, on April 30th from 6-8pm.  Come get your art walk guide, tour our local business venues and cast your vote for the Peoples Choice Award in two categories – grade 6-9 and grade 10-12.  Bring a cup for lemonade tasting and vote for your favourite!  Admission is FREE! Everyone is invited!!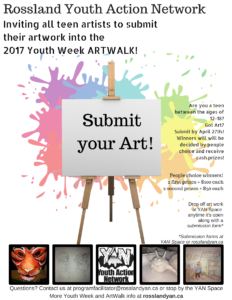 Submit your artwork at the YAN Space prior to April 28th to enter into the ArtWalk show and contest. Submissions open to all teens.
-May 1st – 4th  – Art Walk open at business venues during regular business hours.
-After School Drop In Daily Challenges – Monday – Thursday May 1-4, 2:30-4:30pm
After school drop in will run Monday – Thursday from 2:30-4:30pm at the YAN Space. Play games, do art, hang out with friends, use a computer, chill, grab a snack, & more. FREE for ages 12-18.  Every day during youth week participate in a daily challenge created by YAN's own Aven Cosbey to win prizes!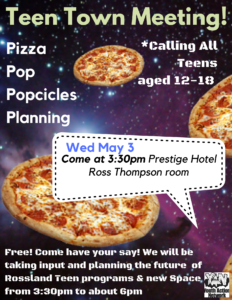 –Teen Town Meeting, May 3rd, 3pm-5pm
Prestige hotel conference room,  all teens invited. Food, fun, YAN planning, and more.
-ROPES – Wednesday May 3rd, at the Firehall Potluck at 6pm, Presentations 7-9pm
Presenting their (ROPE) Right of Passage Experience Project to the Community
The R.O.P.E. project in Grade 8 & 9 is an independent work experience with a community mentor related to a personal passion of theirs which culminates in a Rite of Passage Experience presentation. We welcome you to come hear and experience what they have learned from this year-long project.
-Youth Week Gala– May 4th  at the RSS Auditorium 7-9pm
 Tickets at the door – $5
This grand event is the closing event for youth week and will present the Teen Choice Awards, Youth Variety Show*, U19 Film Festival**, and ArtWalk awards.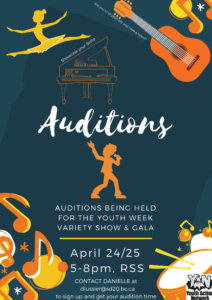 *Wanna audition for the Youth Variety Show?! Audition dates: April 24/25 5-8pm must Contact Danielle at dlussier@sd20.bc.ca to sign up for auditions.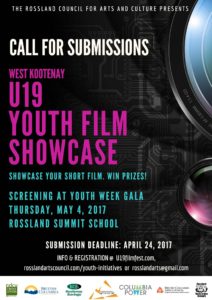 ** Interested in entering a film to the U19 Film Festival?! Awesome, just email rosslandartscouncil@gmail.com or register at U19filmfest.com
Rossland Youth Week is made possible through our YAN funding from Columbia Basin Trust.