In early 2015, we decided to use money generated by program/workshop registrations (our rainy day fund:) to create opportunities for Rossland youth.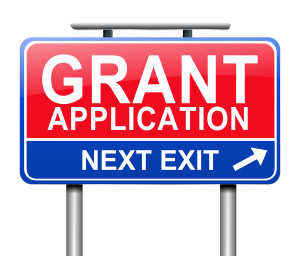 The Youth Action Network provided grants to youth 12-18 years old to assist them in personal development. These grants of up to $200 could be used to pay or help pay for certifications required for employment or personal development opportunities.
Youth Action Grants are no longer running. We would like to thank everyone who applied for the YAN Youth Action Grants!
YAN Youth Grants have supported:
Cobi McBride – Virtu Ski Company
My company, Virtu , will make custom designed skis for skiers of all types, especially urban/street skiers. My skis will not only be customizable, but also affordable for younger skiers, and of course for older skiers too, who enjoy skiing urban/street. Don't forget these skis will also have sweet graphics to make the skier of my ski, look even cooler on the hill!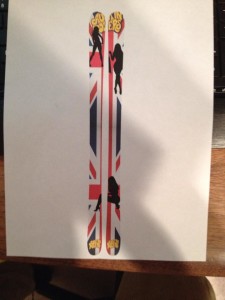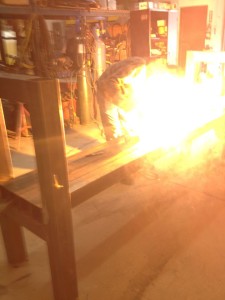 To keep costs down, I plan to set up the ski press in my garage. I have purchased the materials for my ski press and am now in the process of building the press. I am planning on launching my business as soon as my skis are built to perfection and feel amazing under the feet of a whole bunch of different unique skiers.
I will first reach out to the local ski shops to see if they will sell my skis, but I will also sell skis on-line and directly to the customer out of my home. I will market my product at local ski hills with demo days.
I will be successful because my skis will offer a uniqueness unlike any other company. Customizable skis built in Rossland; handmade, strong, sexy, trustworthy and comfortable to different kinds of skiers.
Sage Robine – Haig Glacier Training Camp
As a member of the Black Jack race team, the Haig Glacier, named after Sir Douglas Haig who was a British officer during World War I, is always an exciting opportunity to meet new people, train hard and improve ski technique. Usually the camp consists of about five days of training on the glacier and the surrounding mountains, plus one day for running in and one day for running out of the alpine-located camp. It is located in Kananaskis Country near Canmore, Alberta, so we also use a day to travel to Canmore. We usually share the week with another race team since ours is so small, however, this year was a little different. We only spent 4 days on snow, and while we stayed at the camp, two different groups came and went. For the first half, we shared it with the Canmore race team and the last few days were spent the Winsport team also based out of Canmore. Another difference was my left foot, which got operated on in April. I had a bunion removed, so I wasn't running yet at the time of the Haig. This meant that there was some training that I wasn't able to participate in, but it was still super fun to meet so many new people, and the skiing and hiking was really good. My technique improved so much over the (almost) week and the scenery was amazing (as you would expect of the Rocky Mountains). Overall it was a really fun camp that I was sad to leave. Now I can't wait for the ski season, so I can get back on snow!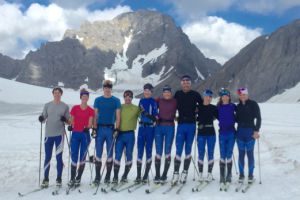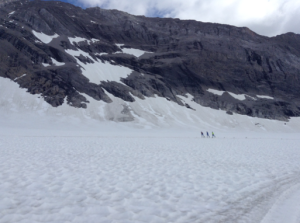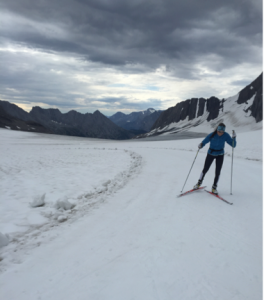 Emilia Hofmann – Canadian National Ballet School
This summer I attended the prestigious Canada's National Ballet School in Toronto, ON. I auditioned in the fall in Vancouver, and I was one of the few lucky ones to be invited to their Summer Intensive. It was four weeks of July of hard, but fun work. It was very expensive, as I lived in a Residence and the training was top-notch so I am so grateful for the grant I received from the Youth Action Network to help to allow me to go train for a month at one of the best ballet schools there are! Thank you, YAN!!
Indea D'aigle – First Aid
As a result, of a Youth Action Network Youth Grant funding I had the opportunity to participate and receive my Standard First Aid certificate with CPR. Having this course will allow my to continue on with my interest in the health science field, I learned how to perform CPR and provide care and comfort for injured people until a first aid responder arrives. This course taught me how to assess situations and how to assist people in potentially dangerous situations.
In these photos, I am setting 'broken bones' in splints and slings.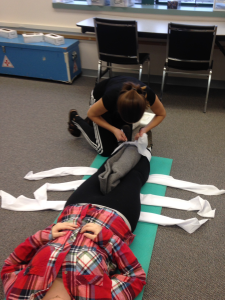 Maya Winckers – Bronze Medallion
This November I took the Bronze Medallion course. This is a required course to become a lifeguard, which is a job that I want to pursue. I learned many life saving techniques for rescuing someone in the water. I also learned some first aid and CPR. This was a very valuable course and I am thankful for the grant that the Youth Action Network provided me.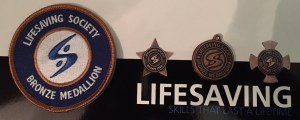 Devin Knox – Me to We trip to India
would like to say thank you for all the support mentally and financially to help me achieve my dream of going to India and volunteering at a local school.  I am extremely grateful to have had this experience and learnt so much about this amazing culture.  Coming how with so much more knowledge and a different outlook.  Thank you!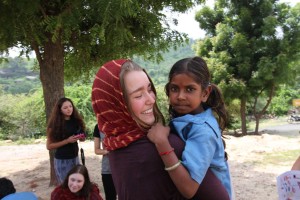 Nelly Williamson – First Aid
This summer I took a First Aid and CPR-C Course. The program was a weekend long procedure at Selkirk College. I intend on working at the Rossland and/or Trail pools, and needed to complete this course as one of the many steps and skills to become a lifeguard. YAN was a big help with making this happen. I learned lots in this course, as well as got in some good review. I'd like to thank the Youth Action Network for giving me this grant. Thanks YAN! 🙂
Nathan Mckay – Mytaskmasters.net
Taskmasters was an idea for a local job board that I had been working on for a while but lacked funding to start up a website. With help from YAN I was able to get a 200 hundred doller grant with was used to pay for my domain name, mytaskmasters.net and 3 years of hosting. This let's me run my website and help out local youth worry free for 3 years. The grant really helped me get on my feet, and allowed me to start making partnerships with people in the community and most importantly it let me start connecting youth with employers.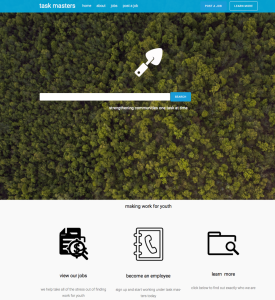 Scarlet Guy – Provincial Debate
A few weeks ago, I had the awesome opportunity of going to Vancouver for Provincial Debating. I got to go to multiple schools and watch my friends debate. Unfortunately, my friend Brian and I came as alternate debaters, so that if there was an odd number of debate teams we could save the day. There turned out to be an even number of debaters, so Brian and I didn't get to debate, but we did get to watch and learn, plus take a trip to Vancouver, which was really fun anyways. On the way we had been joking around about dreading the actual debate, saying we didn't want to actually debate. But when we got there we were disappointed after a while, watching our friends having fun debating and beating their opponents. In the end, the trip was still exciting and fun and it was a great opportunity to meet new people and hang out with our friends.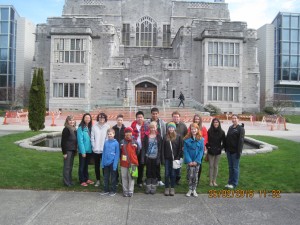 Aven O'Reilly – First Aid
I applied for a Youth Action Grant in order to attend a First Aid and CPR C course provided by Selkirk College in Nakusp. I wanted to take the course so that I would be better qualified to volunteer at a summer camp as a counselor. The course was a weekend long, and the entry fee as well as hotel fees made it a bit costly, but with the funding received from the YAN I was able to attend! Our instructor provided a good blend of presentations, book work, and a lot of examples and practice, and I really enjoyed it. I feel that I've learned many valuable skills and techniques which I'll be able to use in many ways. This certification will help me to get other outdoor jobs, which are my favorite kind of jobs, and are abundant in our area. It will also probably help me out someday when I'm out in the Kootenay wilderness!