Volunteer with the New YAN Space Renovation Project!

Thank you so much for your interest and keen ability in volunteering with this important and meaningful project! We have need of all types of helpers. We have come along way and are in need of volunteers for a a few more jobs at the New YAN Space site in order to finish the project and open up with amazing programs in a welcoming, fun, and diverse Space for youth and the whole community. Please fill out the form below as best you can, and do email with any questions or provide special notes at the bottom.
With gratitude, Rossland YAN
Link to New YAN Space Reno volunteer form https://goo.gl/forms/Vf0s7g7rZZhlfv9f1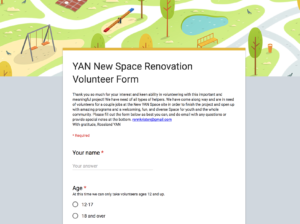 Interested in Volunteering with super fun programs and making a difference in the lives of local youth?!
We will be taking any interest of Volunteers for the February – June Program season soon! Please stay tuned or email us at programfacilitator@rosslandyan.ca., we would love to have you help out at the Rossland YAN Space and it's programs when we re-open.