The YAN Space is currently in progress of moving to a new location in Rossland on Washington Street across from RSS! We will be renovating the building and developing new programming during the summer. We will be excited to reopen Oct 2017!! Stay tuned for updated info on upcoming events and programs. 
These are some past Workshops and Events. From the 2016-2017 season. 
* Workshop/program fees*: At the Rossland Youth Action Network we strive to offer diverse and welcoming programming for all teens. We try and offer programming and workshops that are accessible to all youth. If you find your youth wishes to attend a program or workshop that does in fact have a fee (usually to pay for special materials or instructor cost) and the fee is a barrier for your youth to attend, please contact us asap to discuss a subsidy or 'scholarship' for your youth. We don't want $$ to prevent participation of any interested youth. Contact us at programfacilitator@rosslandyan.ca please.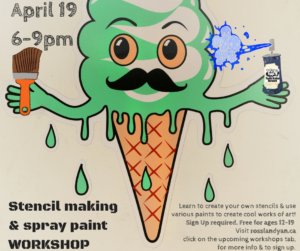 Stencil & Paint Workshop Registration
April 19th 6pm-9pm at the YAN Space.
For ages 12-19, Participants will learn to make their own stencils & use various paints to create cool works of art! Free but Sign Up is required. Please fill out one form per youth at the link provided below: https://goo.gl/forms/lfIE0A9fSSYMnDbS2
update: ***POSTPONED***FELTED ANIMAL EAR MAKING WORKSHOP –  We needed to move the date of this workshop for a tba future date. Sorry for the inconvenience.$5 for ages 12-18. Come and create your own pair of animal ears made with felting wool and a local fibre artist. $5 workshop fee to be paid in cash at workshop. Please fill out 1 form per participant at the link.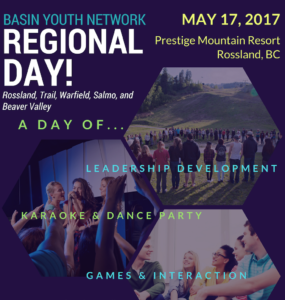 Basin Youth Network Regional DAY!!
May 17th
Prestige Mountain Resort, Rossland
An all day event for Rossland, Trail, Warfield, Salmo, & Beaver Valley youth networks to come together, have fun, grow, and connect.
Transportation, lunch, and dinner provided. Free event for youth 12-18, sign up required.
Wanna join in this year's Regional DAY? Just contact your local Coordinator for more details and to register. (Rossland Youth Action Network has an application form at link provided below)
Rossland Youth Action Network, Kristen Renn Coordinator, if you are a Rossland youth between 12-18 and wish to go you can submit an application at the link provided—> https://goo.gl/forms/zMcXCfrQsrzxPHAO2
Warfield Youth Action Network, Rachel Jansen 250-512-1351  
Beaver Valley Youth Club, Tammy Gallamore  250-367-7930
Trail Youth Action Network, Geoff Harrison 250-231-4622
 Tammy Gallamore, Beaver Valley Youth Club 250-367-7930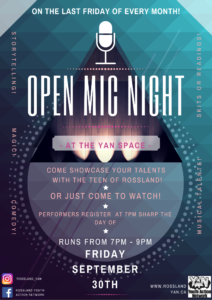 TEEN OPEN MIC NIGHT!
The Last Friday of every month at the YAN Space!
Free 7-9pm this coming Friday.
Sing, dance, play instrument, tell stories, slam poetry, improv…whatdoya got?!
Hosted by Lise. Come watch and cheer on your friends.
For teens 12-18. FREE
*like us on Facebook for notifications on any upcoming workshops.
https://www.facebook.com/RosslandYAN/