A new Youth Action Network Space for the youth of Rossland!!
Our biggest project right now?…The New YAN teen Space! We are working hard on raising funds, planning, coordinating, and working on the renovations (especially Mike) and It's going great. Even on schedule! We just need a little more support with the last of needed finishing funds. Please consider donating to this important building that will provide a welcoming and inclusive space for youth and the community. We accept and are grateful for donations of all levels. You may donate to the new Rossland YAN teen space at this link http://yanreno.yodel.org/ or at Rossland City Hall, donations over $25 are eligible for a receipt, checks made out to City of Rossland – YAN. It's gonna be a great and important hub for our youth now and to come. Let's make sure it's open by end of Fall 2017 together!
We are so excited about how this project is turning out and are soo very grateful for all the people and businesses who have held make it a possibility.
Interested in volunteering with the New YAN Space Renovation Project! Sept – Oct
Thank you so much for your interest and keen ability in volunteering with this important and meaningful project! We have need of all types of helpers. We have come along way and are in need of volunteers for a a few more jobs at the New YAN Space site in order to finish the project and open up with amazing programs in a welcoming, fun, and diverse Space for youth and the whole community. Please fill out the form below as best you can, and do email with any questions or provide special notes at the bottom.
With gratitude, Rossland YAN
Link to New YAN Space Reno volunteer form https://goo.gl/forms/Vf0s7g7rZZhlfv9f1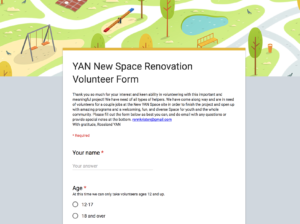 The Hows & Whys of this project:
This new teen space in Rossland is a community build. Meaning that lots of different community businesses, contractors, tradespersons, volunteers, and organizations have pulled together to help make this project happen. Throughout 2016 & 2017, Rossland YAN organized, wrote grants, and raised a good portion of the funds needed to get this project rolling and close to finished, and as many of the contractors and tradespersons were either donating time and resources or at a discount it was key that we start the many stages of the project when convenient for their schedules. The old YAN Space on Columbia Ave was super, but it also cost Rossland YAN a lot in rent and utilities. Money that could be better spent going towards the renovation of the new YAN Space ( a 1x cost) that, when done, would become an asset of the city and community. So, at the end of May 2017 we moved out of the old YAN Space and got started with the build! Estimates for the Renovation of the New YAN Space were calculated as best they could, and of course there are always unforeseen costs and unknown calculations – such as if we would get 100% of all grants we were still waiting for (we didn't), or where and when we can get deals on supplies as they come needed.
So, with this in mind we hope you understand that this renovation project for the Teen Space and community building is going amazingly and on schedule, but, to finish up the last of the renovations we need your help. We need $20K more to complete this project. These last funds will be going towards the completion of the North Bay "Multipurpose Room" of the new YAN Space. It is planned to be used for a stage area for open mic nights and performances, large room ball and game play, indoor skateboard options, and maybe, just maybe,…an indoor Climbing Wall!
So please spread the word. Donate what you can.
HUGE THANK YOU to everyone that has helped and supported this project!
To name a few We will be updating this list as often as we can):
Individuals – who donated time
Mark Miller
Sam Miller
Bradon
Rhianna Connelly
Dan Kroeker
Michelle Power
Aaron Cosbey
Robin Hethey
Louis McBride
Jon Chester
Steve Cutt
Steve Knox
Ellie Knox
Rob Klemmensen
Ben Kroeker
Amber Hayes
Shaun Murphy
Ormond Jobin
Dieter Sartisson
Tash Penner
Organizations & Businesses
City of Rossland
Columbia Basin Trust
Kiwanis
Ital Electric
RDKB Area B
Teck Trail Operations
Trail Roofing
Main Plumbing and Heating
MacLeod Nine Consultants
DL Design
Ripple Effect Consulting, Inc
Splashes / Andrew Sheret
Chinook Scaffolding
Murray McConnahie
Columbia Glass
Simm Excavating
Trail Ready Mix
Kootenay View Concrete
Rossland Rotary
Gulliven International
West K Concrete
Mountain High Lighting
Maglio Building Centre
Alpine Disposal
RDKB
Trowelex
Red Pair Shoe Store
People who have donated funds – to be recognized soon!
****Renovation Updates!****
*Update Sept.  the big news of the week is that we installed a 30′ beam to keep the roof up. Happy to have that job done. Thanks to Guy Simard and Jim Van Horne of Benefit Construction for making that happen. After that was in we were able to install the last of the windows.
Today Main Plumbing and Heating were on the premises running the gas lines and tying up some loose ends with the plumbing.
Its been a productive week!
*Update: Sept. So the new YAN Space is getting a new roof today!!!
Trail Roofing has come through in a big way getting deals/donations from their suppliers and giving a large discount (like half price!!!)
Thanks for putting a roof over the heads of the youth of Rossland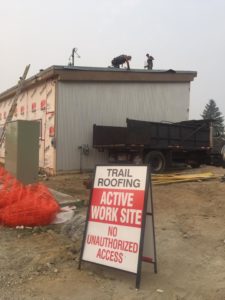 Renovation Update: Things are still progressing at the future home of the YAN. The electrical and plumbing rough ins are done. We can't thank Brad Smith of Ital Electric and Andre Kazoom of Main Plumbing and Heating enough for their contributions to this project!
Renovation Update: Rainbow crosswalk and siding starting!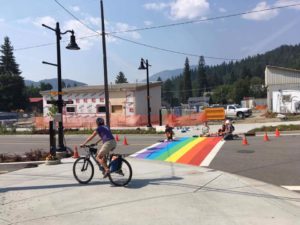 Renovation update: So many great things happening at the site of the new YAN Space. Big news is last week we had a concrete floor poured with in floor heating!
Kootenay View Concrete gave us a great deal to finish the concrete supplied by West K (who also helped out out with a deal:) Thanks to Perry and the guys from KVC!
And HUGE thanks to Andre at Main Plumbing & Heating and retired volunteer plumber Dieter Sartisson for getting the heat piping laid out and tested on a super tight deadline before the concrete arrived.