The MakerLab 2.0!!
All new reinvented MakerLab Program wiwill reopen Nov 2017!
Do you have an enthusiasm for technology, learning, building stuff, and fun?!
The MakerLab is a meeting ground for youth who share a keen interest in all aspects of technology. We will be offering all sorts of fun classes and workshops this season. Whether it is robotics, motion graphics, creating and printing 3D models, or something completely different we hope to have you join in the Making!
1st Class of the Season!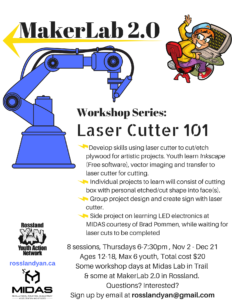 LASER CUTTER 101
8 sessions, Thursdays 6-7:30pm , Nov 2 – Dec 21
Ages 12-18,
Max 8 youth, Total cost $20
Some workshop days at Midas Lab in Trail 
& some at MakerLab 2.0 in Rossland.
Sign up by email at rosslandyan@gmail.com
Workshop overview, Youth will…
-Develop skills using laser cutter to cut/etch plywood for artistic projects. Youth learn Inkscape (Free software), vector imaging and transfer to laser cutter for cutting.
– Individual projects to learn will consist of cutting box with personal etched/cut shape into face(s).
– Group project design and create sign with laser cutter.
– Side project on learning LED electronics at MIDAS courtesy of Brad Pommen, while waiting for laser cuts to be completed
Questions? Interested?
email at rosslandyan@gmail.com
*Please check in soon for updated info about MakerLab for future workshops and for registration info on upcoming classes.