The YAN Space is currently in progress of moving to a new location in Rossland on Washington Street across from RSS! We will be renovating the building and developing new programming during the summer. We will be excited to reopen Nov/Dec2017!! Stay tuned for updated info on upcoming events and programs. 
CURRENT PROGRAMS
Dungeons & Dragons is back with DM Cody!!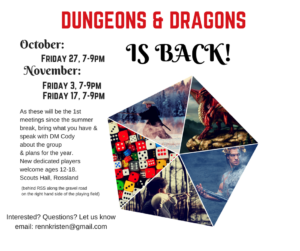 First meeting Friday October 27th 7-9pm at the Rossland Scouts Hall. (right side of RSS at end of gravel road)
Past group members and new dedicated members are welcome! Bring what you have to play (if you dont have anything thats ok too).
Please try to make it to the first meeting if you can as the group will be DM Cody will be assessing everyones levels and catching people up, as well as discussing future plans for the group. Please email rosslandyan@gmail.com if you are coming so we know who and how many to expect!
For ages 12-18, yes, there will be snacks; )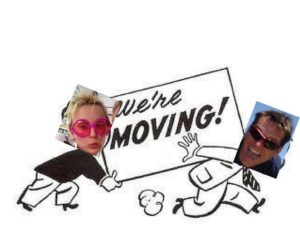 PAST Programs: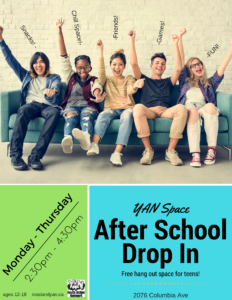 After School Drop In: Mon – Thurs 2:30-4:30pm
Play games, do art, hang out with friends, use a computer, chill, grab a snack, and more. FREE for ages 12-18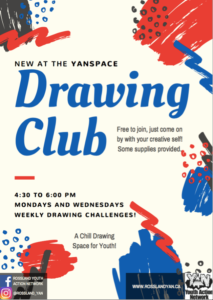 DRAWING CLUB is Finally here!
Every Monday & Wednesday 4:30-6pm
For all levels! ages 12-18, drop on in and get sketchy..well Creative that is; )
Some supplies offered
Free.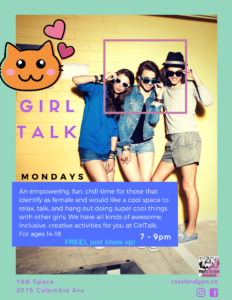 GirlTalk!
Mondays 7-9pm FREE
For gals 14-18 years old. Games, cooking, movies, dancing, yoga, chatting-it-up, arts & crafts, and sooo much more. For those that identify as female. Drop In style.
*If you are 13 and wish to go, you can come if you have a 14 year old bring you; )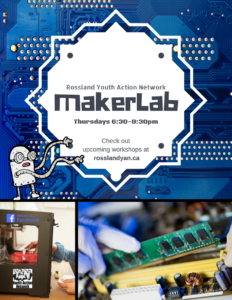 MakerLab:No Makerlab during month of April, please check back in May about upcoming Makerlab workshops.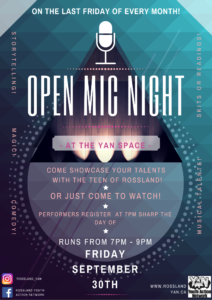 Open Mic Nights are back! Next one Jan 27th! See you there!
The Last Friday of every month at the YAN Space!
Free 7-9pm this coming Friday.
Sing, dance, play instrument, tell stories, slam poetry, improv…whatdoya got?!
Hosted by Lise. Come watch and cheer on your friends.
For teens 12-18.
Check out the upcoming awesomeness that is YOUTH WEEK 2017!
If you need to get in touch with the Rossland Youth Action Network please email Kristen at programfacilitator@rosslandyan.ca
Thanks!
* Workshop/program fees*: At the Rossland Youth Action Network we strive to offer diverse and welcoming programming for all teens. We try and offer programming and workshops that are accessible to all youth. If you find your youth wishes to attend a program or workshop that does in fact have a fee (usually to pay for special materials or instructor cost) and the fee is a barrier for your youth to attend, please contact us asap to discuss a subsidy or 'scholarship' for your youth. We don't want $$ to prevent participation of any interested youth. Contact us at programfacilitator@rosslandyan.ca please.