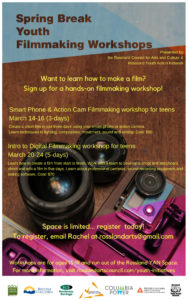 Between the ages of 13-19 and want to learn how to make a film? This Spring Break, the Rossland Council for Arts and Culture & Rossland Youth Action Network present two multi-day filmmaking workshops for youth. 
Smart Phone & Action Cam Filmmaking Workshop For Teens
Dates: March 14-16 (3-days)
Time: 10am-4pm
This three day hands on workshop will introduce participants to the possibilities of filmmaking with smart phones and action cameras, exploring techniques in lighting, composition, movement and sound recording, and learning basic video editing techniques with professional editing software. Participants will be challenged to make a short film in just three days.
Cost: $50 per person
Intro to Digital Filmmaking For Teens
Dates: March 20-24 (5-days)
Time: 9:30am-4:30pm
In this five-day hands-on workshop, participants will learn how to create a film from start to finish. Participants will work together to create a short film that we will shoot and edit over the course of the workshop, taking turns in directing, shooting, lighting, acting and editing. Participants will learn how to operate more sophisticated camera, lighting and sound equipment, as well as basic video editing techniques on professional video editing software.
Cost: $70 per person
Both workshops are run by Ben Walker, a filmmaker from Ottawa who now calls Rossland home. Ben has worked on a variety of film and video projects including music videos, documentaries, short films, commercials and television shows, and has taught filmmaking workshops for both adults and children.
Pre-registration Required. To register, email Rachel at rosslandarts@gmail.com.