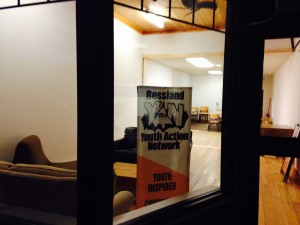 We now have a dedicated space to run youth programming out of!  We are trying a 3 month trial of renting the storefront right downtown at 2076 Columbia Ave.  It has been a whirlwind of activity to get the doors open, and it is a work in progress but we
are excited about the possibilities!
What will be happening in this space?  Well for starters:
Mondays from 7-8:30 pm
Art Drop In Night   An evening art drop-in without instruction, just a space to be creative with other youth artists. Guest artists will be on hand to lend support or just chat about the creative process. Guests artist for March & April include Stephanie Gauvin, Colin Taylor, Kristen Renn & Andy Holmes. For an up to date list of guest artists go to rosslandyan.ca
Wednesdays from 3:30-5:30 March 4- April 1
Film Making Drop In Night. Hang out with other youth film makers and work on your film projects. Get your films ready for the U19 film festival with the support of other people interested in film. Help each other film scenes, share knowledge, techniques and equipment. Facilitated by Liam Barnes, former winner & judge of the U19 Film Festival. 
Wednesdays from 6:30-9:30
Rossland Youth Social Club (for youth 16-18 yrs old) – Since the inception of the Youth Action Network, youth in the 16-18 year age range have been asking for a place to come and just hang out. So we are piloting this open space just for 16-18 yr olds.
Thursdays from 7-8:30 pm
The Makerlab is a meeting ground for youth who share a keen interest in all aspects of technology. Bring your technology project, whether it is robotics, motion graphics, creating and printing 3D models, or something completely different. You don't need experience, just an enthusiasm for technology!
We plan to create more programs and activities in this space so stay tuned!